XM Broker Review 2023
XM is our #2 Forex and CFD Broker in Nigeria for 2021. The competitive spreads, top tier regulatory licenses, attractive bonuses, free deposit and withdrawals makes it an ideal choice for Nigerian traders. Read our honest review of XM Nigeria with various pros and cons.
XM is a market maker forex and CFD broker that is quite popular globally, and also one of the largest brokers as calculated according to Monthly trading volume. It was launched in 2009 and claims to have served more than 3.5 million traders registered with it over the years from 196 countries.
XM is regulated by 2 Top tier regulatory authorities including ASIC, & CySEC. We liked their competitive spreads, the number of trading instruments available on their platform, superior customer support, and lightning-fast execution of trades at XM.
XM is a well-regulated and trustworthy broker for traders in Nigeria. However, the unavailability of a local office and no Naira trading account can be a drawback for traders in Nigeria.
Read our comprehensive review before opening your trading account at XM. We have discussed the pros and cons of XM Nigeria based on 9+ factors to assist the traders.
XM Nigeria Pros
XM is regulated by CySEC which makes it safe for Nigerian traders.
The minimum deposit at XM is as low as 5$.
It offers negative balance protection on all 4 account types.
XM offers a low spread on currency majors starting from 0.6 pips.
Deposits and withdrawals are free of cost.
Excellent customer support through live chat and email.
XM Nigeria Cons
Traders cannot trade with Naira (NGN) as the base currency of the account.
XM does not have a local office in Nigeria.
It does not accept deposits/withdrawals through local bank transfers in Nigeria.
XM does not have a local phone number in Nigeria for customer support.
XM is not regulated by any top tier regulatory authority.
XM Broker – A quick look
👌 Our verdict on XM

#2 Forex Broker in Nigeria

🏦 Broker Name

XM Broker Nigeria

💵 Typical EURUSD Spread

1.7 pips

(with Micro Account)
📅 Year Founded
2009
🌐 Website
www.xm.com
💰 XM Minimum Deposit
5$
⚙️ Maximum Leverage
1:888
⚖️ XM Broker Regulation
IFSC, CySEC
🛍️ Trading Instruments
57 currency pairs, 1000+ CFDs on Indices, Cryptos, Metals, etc
📱 Trading Platforms
MT4 & MT5 for desktop, web & mobile
Is XM Safe for Nigerian Traders?
Nigeria currently does not have local regulations for Forex & CFD trading. Hence, all the reputed brokers that accept traders in Nigeria are regulated by top-tier regulatory authorities from foreign jurisdictions.
The parent company of XM, i.e. 'Trading Point of Financial Instruments' is regulated by two tier-1 and one tier-2 regulatory authorities.


XM broker is owned by Trading Point Holdings Limited which is a regulated financial institution under multiple regulators. It is regulated by the following regulatory authorities:
Australian Securities and Investment Commission (Australia)
The parent company of XM is regulated by ASIC with the name of "Trading Point of Financial Instruments Pty Ltd" under license number 443670. ASIC is a top-tier regulatory authority based in the jurisdiction of Australia. It must be noted that XM does not have an ASIC license but its parent company Trading Point Holding Ltd has acquired the ASIC license.

Cyprus Securities and Exchange Commission (CySEC)
XM is regulated by CySEC with the name of "Trading Point of Financial Instruments Limited" under license number 120/10. The CySEC regulatory license is held by XM that allows it to offer financial services in the European Union. Nigerian clients are not registered under CySEC regulation but they can approach the regulatory authority to file a complaint if needed.

International Financial Services Commission (IFSC)
Nigerian clients at XM are registered under the International Financial Services Commission (IFSC) regulation. XM holds the IFSC regulatory license by the name of XM Global Limited under license number 000261/158 with registered company address at No. 5 Cork Street, Belize City, Belize, CA. The regulatory compliance requirement of IFSC Belize is much lenient compared to that of FSCA, FCA, or ASIC.
XM has been operating for more than a decade now and a large number of traders worldwide have reported positive experiences with the broker over the years. It is a market maker broker which means that it can also take another side of the trade to generate revenues apart from spreads. Market maker brokers have the ability to make profits from the losses of their clients. The parent company of XM holds multiple regulatory licenses but XM separately does not hold any top-tier regulatory license. They offer segregation of funds for investor safety.
Overall, we found XM to be safe for traders in Nigeria due to IFSC and CySEC regulations. Although, safety ratings of XM are lower compared with other forex and CFD brokers in Nigeria that are regulated by either FCA, FSCA, or ASIC. Lower safety ratings mean that the third-party risk of choosing XM in Nigeria is higher.
XM Nigeria Fees
XM offers tight and competitive spreads for various currency pairs and CFDs. We have divided the fees at XM into two parts namely trading and non-trading fees.
1. Trading Fees
This includes the spreads, commission, and other charges that are incurred while executing trades. XM does not charge a commission on any of the account types for forex and CFD instruments which is an advantage for the traders.


Spreads are the major constituent of trading fees, and it is the difference between the bid and ask price for any instrument. XM offers variable spreads on each of the trading instruments which means that the spreads can change depending on the market conditions.
We checked the average spread for EUR/USD as a benchmark and found it to be 1.7 pips per lot for the standard as well as micro account types. We also checked the spreads for some of the commonly traded CFDs and found them to be decently priced compared to other brokers in Nigeria. The spread for EUR/USD with the Ultra Low Account type is 0.8 pips per lot with no commission. The Ultra Low account is the most cost-efficient account type at XM as the spreads are the lowest. Traders do not have to pay any extra commission or deposit bigger sum to open the Ultra Low account type.
following is the comparison table that shows the difference between the spreads of different instruments at XM with Standard and Ultra Low Account type.
| Trading Instrument | Average Spread with Standard Account (pips) | Average Spread with Ultra Low Account (pips) |
| --- | --- | --- |
| EUR/USD | 1.7 | 0.8 |
| GBP/USD | 2.1 | 1 |
| Gold/USD | 3.5 | 2.5 |
| US Crude Oil | 3 | 3 |
| US Tech 100 | 1 | 1 |
The following table compares the average spread incurred by XM with the spreads incurred by other brokers on most traded forex pairs. These spreads are with the standard account that doesn't involve commission.
| Trading Instrument | XM | FXTM | eToro | Exness | Pepperstone |
| --- | --- | --- | --- | --- | --- |
| EUR/USD | 1.7 | 1.9 | 1.1 | 1 | 0.77 |
| GBP/USD | 2.1 | 2 | 2.3 | 1.2 | 1.19 |
| EUR/GBP | 2 | 2.4 | 2.8 | 1.60 | 1.40 |
| USD/JPY | 1.6 | 2.2 | 1.2 | 1.1 | 0.86 |
| USD/CAD | 2.2 | 2.5 | 1.7 | 2.1 | 1.07 |
Another component of trading fees is the swap fees. Traders must note that the swap fees or overnight charges are only incurred to opened positions if they are kept open overnight. The swap rates at XM are the same regardless of the account type chosen by the trader. Swap rates are different for each trading instrument for long as well as a short position.
The Swap rates at XM for EUR/USD as a benchmark is -5.3 and -0.9 pips per lot respectively. These are slightly higher than the average among the regulated forex and CFD brokers in Nigeria.
2. Non Trading Fees
The non-trading fees involve all the charges that the traders have to pay without entering into a trade. XM does not charge any deposit or withdrawal fees from the traders for any of the methods. The account opening is also free for Nigerian traders.
The only non-trading fee charged at XM is the inactivity fee which is applicable if no trades are executed for 6 months consecutively. An inactivity fee of 5$ is charged each month after 6 months of inactivity.
In terms of fees, the spreads on many of the instruments are lower than most of the brokers in Nigeria. However, compared to all the regulated brokers operating in Nigeria, we found XM to be a decent player as there are a few brokers that charge lesser spreads in Nigeria.
The non-trading fees are quite low, as withdrawals and deposits are free for all the available methods.
Trading Platforms at XM
XM offers a wide range of trading platforms to accommodate traders through multiple devices. The MetaTrader 4 and MetaTrader 5 trading platforms are available for web, PC, Mac, Android, iPhone, and iPad.
Metatrader 4 and 5 are the most widely used trading platform for forex and CFD trading. A large number of regulated brokers provide MT4 and MT5 trading platforms in Nigeria. XM offers a total of 16 variants of MT4 and MT5 trading platforms for various devices.

The mobile trading application is very useful in monitoring the trades on the go and grabbing profit-making opportunities. XM does not support the cTrader trading application which can be an obstacle for the traders who appreciate the cTrader trading platform.
We liked the variety in the trading applications available at XM. Like other brokers in Nigeria, XM supports all 3 devices.
XM Customer Support
XM provides excellent customer support to clients as well as non-clients through live chat, email, and phone number. We tried to connect with the support executives using all three methods to test their support. Here's what we found.
Live Chat is good: The live chat support is very helpful and user-friendly. We raised different queries through live chat at three different times of the day and received a relevant reply within a minute. It takes less than a minute to solve any query through live chat at XM.

Email Support: The email support at XM is decent as the customer support executives generally take 2-3 hours to reply on a working day. Traders in Nigeria can raise their queries at XM through [email protected]. The support is available in English.
No Nigerian Phone Support: They also have an international number for customer support. The phone support is available in multiple languages and traders in Nigeria can connect with the support executives by calling on +501 223-6696.
We liked the live chat support at XM as it is fast and helpful. Although, the unavailability of local Nigerian phone numbers is a drawback for traders in Nigeria.
Account Types
XM offers 3 account types for forex and CFD trading while the fourth account type is exclusively available for shares CFD trading. The broker offers negative balance protection for all the account types.
The lowest minimum deposit at XM Broker is $5 with their Micro account. None of the account types at XM involves commission and the deposits, as well as withdrawals, are free for each method.
Following are the 3 forex and CFD trading account types at XM:


XM Micro Account: It is the basic account type at XM that can be opened with a minimum deposit of 5$. The lot size is 1000 units while the spreads start from as low as 1 pips per lot. This account type is ideal for beginners or those who wish to trade with lesser volume or smaller lot sizes. The minimum trade volume with the micro account type for the MT4 trading platform is 0.01 lots and 0.1 lots for MT5 platforms.
XM Standard Account: The standard account can also be opened with a minimum deposit of 5$ but the lot size for this account type is 100,000 units. The spreads are similar to the micro account type but the minimum trading volume is 0.01 lots for MT4 as well as the MT5 trading platform. The standard account is ideal for those traders who wish to trade with higher volumes and lot sizes.
Ultra Low Account: This account type offers lower spreads with no commission and a 5$ minimum deposit. This account type offers lowest spreads on various currency pairs and CFDs. According to our review, this is the best account type to choose at XM as there is a major difference between the spreads of currency pairs. Any type of deposit bonus is not available with the Ultra Low account.
All the three account types at XM can be opened with different base currencies but NGN (Naira) is not available for base currency. Each account type can also be converted into an Islamic or swap-free account. The maximum leverage for each account type is 1:888.
Apart from the three forex and CFD trading accounts, XM has a separate shares account that is specifically structured to trade shares. The commission for trading shares is different for shares of every country. This account requires a minimum deposit of 50,000$ or equivalent.
Each account type gives access to all the available trading instruments at XM. We liked the variation in the account types and the availability of all the trading instruments for each account.
How to Open Trading Account at XM Broker?
The account opening process at XM is simple and can be completed within a few minutes. Potential traders need to enter their basic details and select the account type in step one.
In the next step, they need to provide name and address proof for the KYC process and deposit the amount to start trading at XM.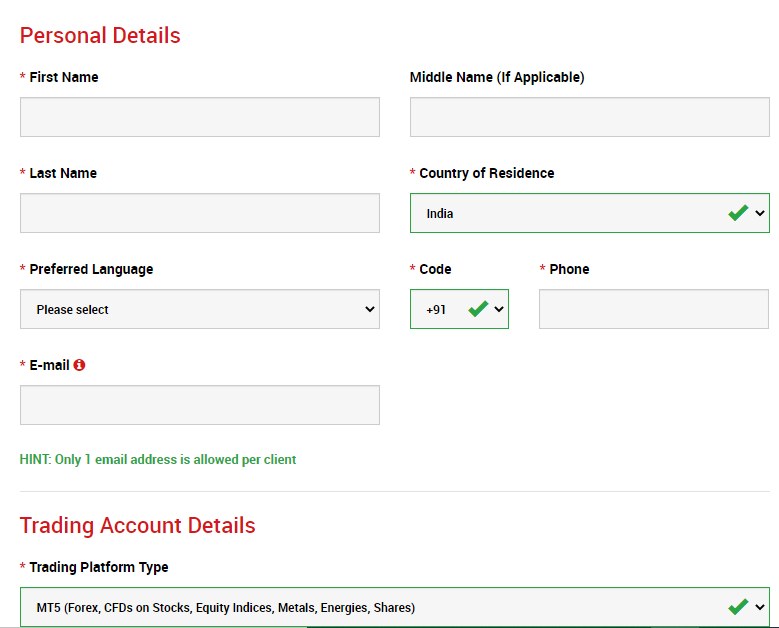 XM Research and Education
Traders have better chances to make a profit if the orders are backed with research and education. XM offers a variety of tools that can reduce the efforts and assist the traders in the research and education concerning forex and the CFD market.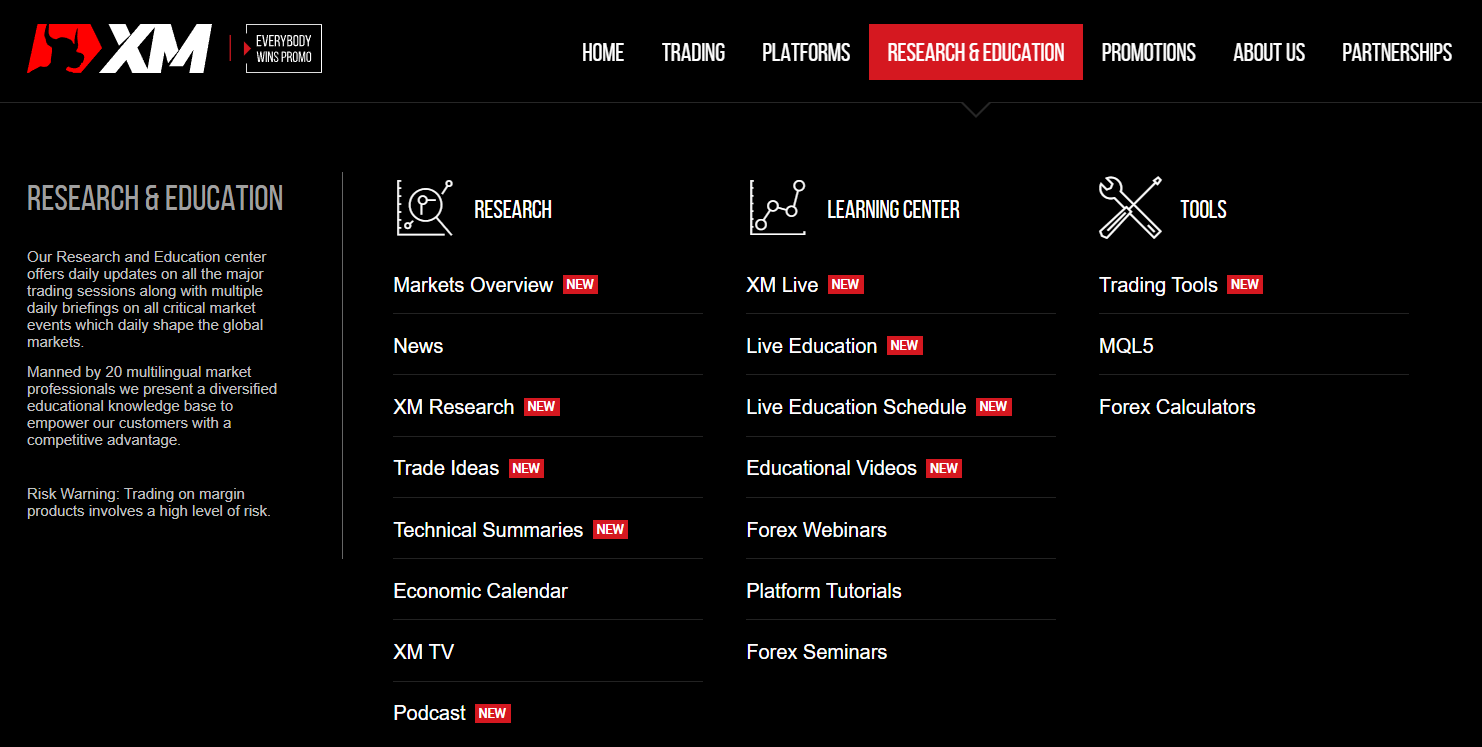 XM Research Tools
Market Overview & News
Both these tools under the research and education section at XM cover the latest news and global affairs. The market overview section particularly targets affairs that affect volatility and price movement in the forex and CFD markets. The news section covers many other areas as well that can possibly affect the global capital markets. Each published article and informative and useful. On average more than 30 articles are published in a day at XM.
XM Research
The technical analysis reports of various currency pairs are published regularly under the XM research section. These reports have details of historic price swings with predictions according to different patterns and indicators. Nearly 6-12 technical analysis reports on specific currency pairs are published per day.
Trade-Ideas
This research tool provides trading signals to the registered clients that are backed up by technical and fundamental reasoning. These trading signals can be advantageous for the beginner as well as the expert. Due research must be done before taking ideas from the signals.
Technical Summary
The technical summaries of 5 currency pairs and 5 CFDs at XM are available under the research and education section. This summary includes monthly, daily, hourly, 15 minutes, and 5-minute trends of price movement, traders' prediction, and liquidity. It is updated after 5 minutes on the official XM website and app.
Apart from the above-mentioned major research tools, there are a few others. The economic calendar highlights the important events with dates and times that can have an influence over the forex and CFD market. XM releases podcasts with market insights and news updates on Apple Podcast, Spotify, Google Podcast, and on the official XM website. XM also has a YouTube channel that regularly publishes videos of market updates and insights.
XM Education
XM Live Education
The live education feature at XM is highly advantageous for clients that are new to forex and CFD trading. Clients can join the basic and the advanced rooms of live education for free after opening live accounts. The two rooms target different topics and have a 1-hour session for each topic where viewers can also raise queries.

The schedule for the live education of both the rooms is available on the website and app of XM. The advanced room has more features than the basic room and can be useful for beginners as well as experienced traders.

Educational Videos

XM offers rich educational content that nearly covers everything that a trader must know before trading forex and CFDs. There are more than 50 educational videos covering different topics in detail. The platform video tutorial has more than 40 videos that explain how to use the MT4 trading platform efficiently. These educational videos can be found under the platform tutorial section on the XM website and app.

Webinars and Seminars
XM also organizes webinars and seminars to educate the traders on regular basis. The live seminars have been halted in 2021 due to covid but the webinars can be attended by any client. The details and schedule are available on the website and app.
XM offers useful and insightful research and educational tools. We found live education to be a quite useful and unique feature at XM. Compared to other regulated brokers, the research and education tools at XM are better than many peers.
Trading Instruments
XM offers a wide range of trading instruments that is more than many of the regulated brokers available in Nigeria.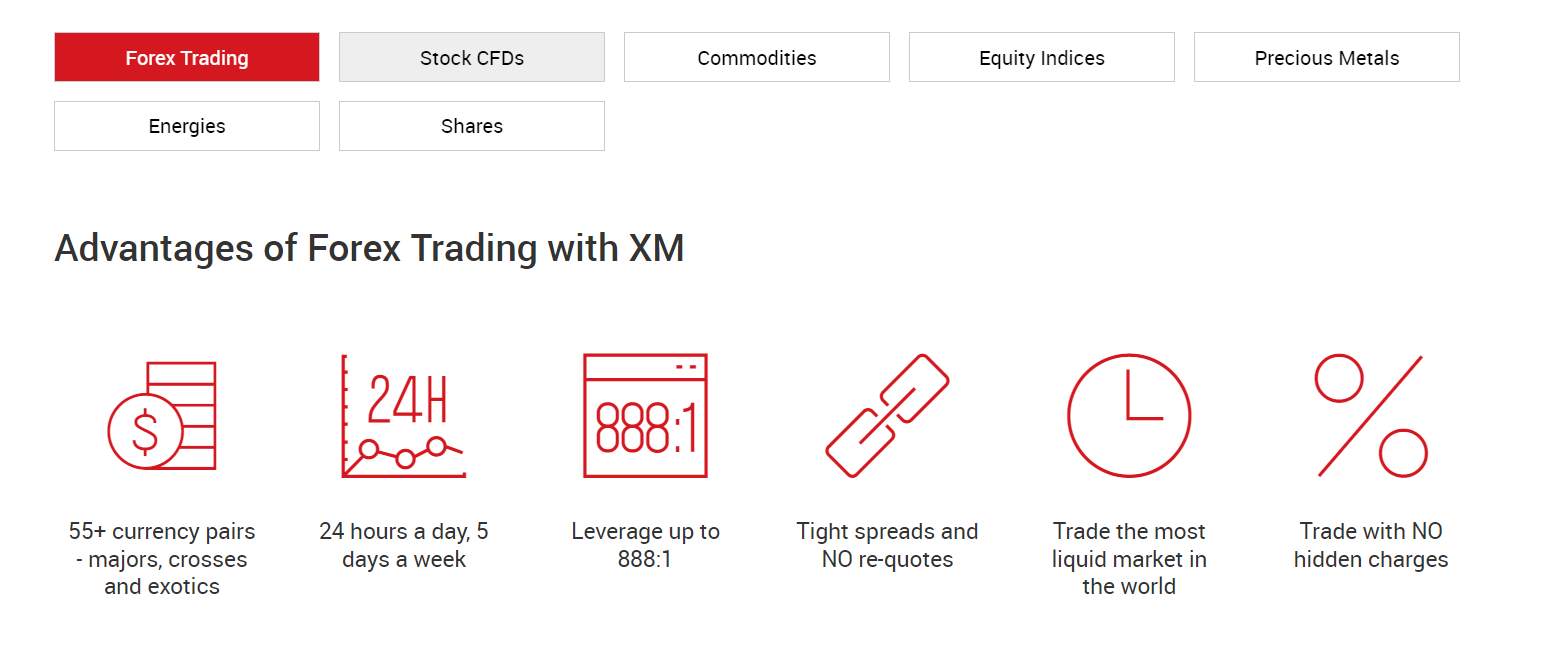 Following are the types of trading instruments that can be traded using any account type at XM.
57 Forex pairs: Traders in Nigeria can trade with the micro and standard lot size of 57 currency pairs. This includes major, minor, and exotic currency pairs.
Stock CFDs: XM offers CFDs on a large number of international stocks. The list of stock CFD includes shares that are traded on various American and European stock exchanges. A total of 1306 stock CFDs are available to trade at XM.
Commodities CFD: XM offers CFDs on 8 types of commodities that are speculated based on the US commodity market. Commodity CFDs are available on cocoa, coffee, corn, cotton, copper, soybeans, sugar, and wheat.
Indices CFD: A total of 14 indices from Australian, European, and American markets can be speculated through CFDs at XM.
Precious Metals CFD: Traders in Nigeria can also trade with CFDs on Gold, Silver, Palladium, and Platinum at XM.
Energies CFD: XM also allows traders to speculate energies through CFDs on Brent Crude Oil, London Gas Oil, Natural Gas, WTI Oil, and WTI Oil Mini.
We encourage the number of trading instruments available at XM. A wide variety of trading instruments provides more opportunities for traders to grab money-making opportunities.
We found XM to be among the best forex and CFD brokers in Nigeria in terms of the instruments offered.
Deposits and Withdrawals at XM
The deposit and withdrawals at XM are free of any additional cost for any of the available methods. XM also covers all the transaction expense (if incurred) for every available funding method. Traders in Nigeria can deposit and withdraw through Credit/Debit Cards, E-wallets, and wire transfers.
XM Deposit Methods
XM does not accept deposits through local banks in Nigeria. The deposits can be made with select credit/debit cards, e-wallets, and bank wire transfers. Clients can select the preferred mode of funding from the members' area after opening the account.
As NGN is not available as an account currency, each deposit made in NGN will be automatically converted to the base currency. XM uses prevailing interbank prices to convert the currency with no additional commission.
The minimum deposit amount is 5$ or equivalent but it depends on the method of transaction selected. The deposits credit/debit cards and e-wallets are fast as the amount gets reflected in the account balance within a few minutes.
XM Withdrawal Method
XM follows a withdrawal priority procedure. If the deposits are made through credit/debit cards or e-wallets, the withdrawal has to be done with the same method up to the deposited amount. If the withdrawal amount is higher than the deposited amount, the profits can be withdrawn through wire transfer and e-wallet only.
Withdrawal requests are processed within 24 hours but the bank wire transfers and credit/debit cards can take up to 5 days. The account needs to be completely validated with proof of identity and address to process the withdrawal.
XM Bonuses
XM has attractive offerings in terms of rewards and bonuses for the traders. The 20% welcome bonus up to $500 is seemingly lucrative to traders in Nigeria.
This bonus at XM is available to all the new clients who can deposit multiple times in the first 30 days until the maximum bonus of $500 is availed.


Apart from this, XM also rewards referrals made by existing clients. Each successful referral will reward the traders with 35$.
Compared to other regulated forex brokers in Nigeria, we found the bonus offerings to be fairly attractive.
Do we Recommend XM?
Yes, XM is a safe broker & Nigerian traders can trade with them.
Despite the unavailability of a local office and local bank deposit/withdrawals, we found XM to be a legitimate choice for forex and CFD trading.
The top-tier regulatory licenses, a wide range of instruments, free deposit/withdrawals, low minimum deposit, and various other factors make it a great choice for traders in Nigeria.
Frequently asked questions: XM Nigeria
Is XM illegal in Nigeria?
Forex trading is not yet regulated in Nigeria but is not illegal. XM is a CySEC regulated forex and CFD broker and can be considered safe for trading forex and CFDs in Nigeria. It is not regulated by top-tier regulatory authorities like FCA or FSCA but is still safe.
What is the minimum deposit at XM in Nigeria?
The minimum deposit at XM is 5$. XM does not offer NGN based account and deposits made in NGN are already converted to chosen base account currency at prevailing Naira rates.
Is XM good for beginners?
XM offers wide range of research and educational tools that can enhance the trading strategies for beginners as well as experienced traders. The lower minimum deposit, competetive spreads, simple interface, and multiple learning tools makes it a good choice for beginners.